Wine's Link International Holdings Limited (stock code: 8509), a listing company in Hong Kong Stock Exchange since January 2018, is one of the market leaders in Hong Kong wine industry, aims to be the bridge between Asia Pacific and the origin of wine.
Our history can be traced back to 2008, while the government of HKSAR removed all duty-related customs and administrative controls from wine products, one of our founders, Miss. Shirley WONG, grabbed the opportunity to establish Wine's Link Limited and use "Wine's Link" as a brand name to start our wine business.
As at today and looking forward to a recent future, the only business of our Group is the wine business which divided into 3 major segments.
The business of the Group primarily involves the wholesale and retail of a wide spectrum of wine products and other alcoholic beverages in Hong Kong.
Our Group has a comprehensive product portfolio consisting of worldwide Premium Collectible Fine Wine & Spirits.
We are committed to our industry and to the succession of our business in this complex environment.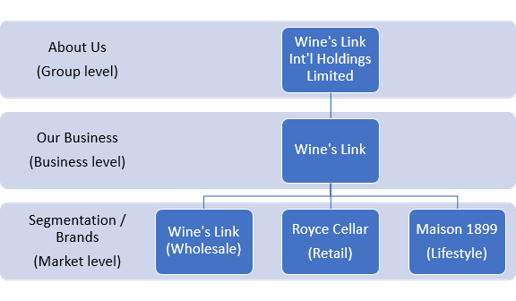 CEO
Ms. Wong Chi Lou Shirley
Ms. Shirley Wong is an executive director and chief executive officer of the Group. She is one of the founding members since its establishment in March 2008 and is primarily responsible for the overall management, strategic development and major business decision-making of the Group.
COO
Mr. Chan Sze Tung Chester
Mr. Chan Sze Tung Chester is an executive director and compliance officer of the Group. Mr. Chan has also taken a role as a vice president of Project Development since April 2018 and is primarily responsible for overseeing the operations management, strategic planning and various projects aimed for future development of the Group.
Our company will continue to expand a sustainable global trade of wine & spirits distribution with representatives who understand the needs of the Wine market and share their passion for Wine.
Thus, we will enhance our partnership and chemistry with other industry partners, leading to opportunities for collaboration.
Our network of distribution aims to plant the circle relationship in Greater bay China in next few years.
Our distribution activities commit to operate under low carbon footprint standard, moving to automatization.
Stake in other related investment in wine property management & winery securities and leverage Hong Kong capacities of financing.
Additionally, our group envisions to diversify and expand our business in the next decade.